A massage and a fuck
A buxom girl in bikini is laying on the bed where the guy is giving her a massage. A little later her panties are off and her bra undone. When she is naked she lays on her back where the guy licks her pussy before he fucks her.
Swinging Tits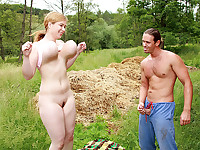 Meet Lea, this teenager has a pair of massive boobs! They're so big they could knock you out when trying to fuck her! In this scene she gets down and dirty with the gardener who isn't affraid of her big pair of tits. He Stuffs her pussy, fucks her tits and they do it in a public place where everybody can see them!
Busty teen fucked hard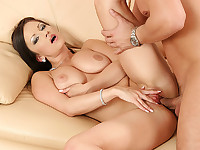 A busty girl in her undies is walking up to a guy. He bends over and licks her massive tits. A little later they are both laying down on a couch. The girl has her panties down and the guy is fucking her from behind.
Leather Clad Dom Vendy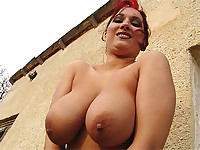 Dominatrix Vendy has been asking us for a while to come on the site and show you guys her wonderful body. Dressed all in leather she cant wait to strip off to tease you with her glorious globes and neat shaved pussy. Then onto some nice boobs fun with her panties, already soaked in cunt juices.
Big titted girl in the bathroom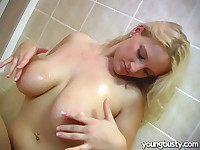 A chubby teenager with large boobs is in the shower. When she is finished she steps out an lays a towel on the floor. She takes off her panties and masturbates using a large rubber dick.
Tasty Terry POV fun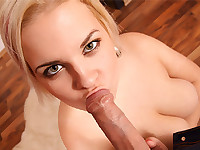 Tasty Terry lets our lucky cameraman can have a good feel of her big boobs. This gets Terry worked up and she is desperate for his cock, so she take out his boner and sucks him stiff, then pumps it between her juggs until creams her face
Finger fucking good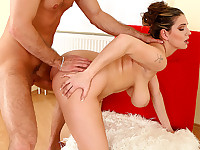 A girl is sitting in a low chair. A guy next to her is gently rubbing her bra. He squeezes her tits as he is kissing her. He pulls her panties aside and finger fucks her. Then he screws her in between her tits and in her pussy.
Showing her boobs off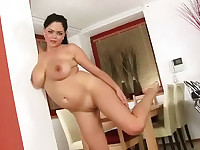 A young girl with a low cut dress is sitting at the top of the stairs. She bends over and shakes her boobs in front of the camera. A little later she is naked and standing up, lifting one leg up in the air before she prepares to masturbate.
Big titted masturbation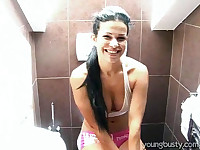 The cameraman opens a door and behind it is a young girl sitting on the toilet. She rubs her tits through the material of her bra and then takes the rest of her clothes off. After playing with her tits a bit more she fucks herself with a large dildo.
Ellen loves to play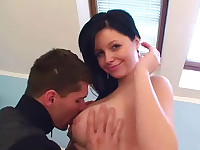 I used to be a pretty shy girl, but after some experimenting at college I changed a lot. Now I just love to suck my boyfriends boner while I'm playing with my big busty boobs. And he loves to watch that too!
* T O P L I S T * T O P L I S T *