Football coach shocks, fucks, and fists his star quarterback
Football coach shocks, fucks, and fists his star quarterback. Actors: Dirk Caber, Blake Goodwin
Gay-B-Q Sausage Fest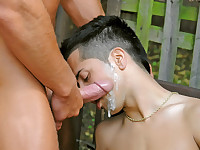 In this wiener roast themed gay orgy the only thing missing so far has been a proper supply of the best condiment of all - pure-bred, all natural, cum!! Nothing like taking a load to the face, chest, and mouth to compliment the flavor of those yummy dogs!
Slicked Up Dak Ramsey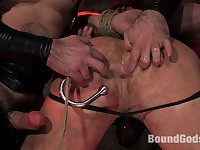 Dak Ramsey whips and fucks studly Mitch Colby in heavy bondage. Actors: Dak Ramsey, Tober Brandt, Mitch Colby
Latino Takes Deep Cock Shoving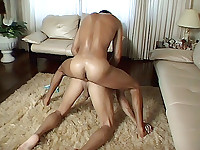 Two horny gays hooked up and engaged in a hot interracial fuck fest. Alex Junior and horny gay Latino Ivan Silveria came in and took off their clothes to show off their revved up packages and began taking turns bottoming each other on the living room floor.
Afternoon Cocktail on The Upper Floor Live Shoot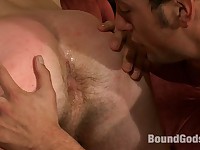 Tommy Defendi and Christian Wilde shower tied up DJ with loads hot cum during a live shoot. Actors: Tommy Defendi, Van Darkholme, DJ, Christian Wilde
Football coach shocks, fucks, and fists his star quarterback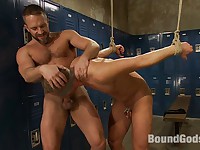 Football coach shocks, fucks, and fists his star quarterback. Actors: Dirk Caber, Blake Goodwin
Cruising for Sex with Noah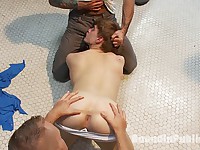 Innocent stud gets used and suspension fucked in a public toilet. Actors: Van Darkholme, Noah Brooks, Cliff Jensen
Hot Interracial Pool Sex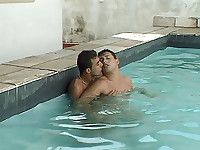 The clip follows interracial lovers Alexandre Senna and Eliezer Rodrigues enjoying an early morning dip in a swimming pool. After a couple of lapses, these gay lovers began flirting with each other and end up fucking each other's asses by the pool side.
Elliot and Maurice femaleclothed sissy in action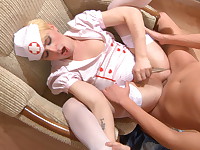 These gay sissies Elliot and Maurice got together and soon a thick meaty cock got whipped out and headed straight for some nasty iron grip ass in that pink outfit. Without hesitation he banged that butt with his hard sturdy cock and went to work. Soon that tight hot sissy butt was being screwed brutally by that rock hard penis and soon there was nothing left of that gaping steamy hot butt.
Football team gang bang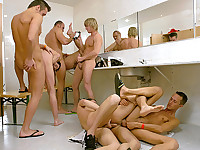 The soccer team has moved the orgy into the bathroom and you can bet the entire place is going to need a thorough washing once these live-and-let-live guys are done with it! Some dudes are getting fucked on the counter over the sink, some are laid out over a bench and violated this way and that, and others have absolutely no shame and get double-teamed right there on the bathroom floor!
Bobbie and Alan femaleclothed crossdresser in action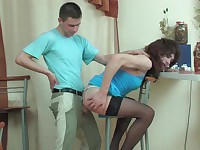 This nasty gay sissy had his that libido up and needed his tight hot sissy butt fucked hard so Bobbie and Alan decided to get it on. He jumped up and went to work to fuck that sissy ass and made him get on down to sucking his cock so it would be hard and stiff enough to penetrate the sissy's sweet raw bum. Soon that rigid pulsing dick was destroying that nasty gay sissy.
* T O P L I S T * T O P L I S T *