Jogging and fucking
Marcel is doing his daily run through the forest when he discovers a blonde nymphet resting on a bench. So he does what any man would do: He starts to jerk off in the bushes. The girl seems a little shocked at first but some cash makes her do anything...
Tennisball seduction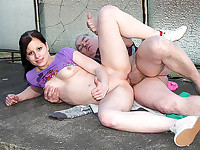 While Marcel is on a walk his attention is caught by an attractive girl. Now Lucie is well over eighteen but you couldn't tell by her behaviour. For lets be honest, how easy is it to seduce a teenager with the help of a couple of... table tennis balls?
Out for a walk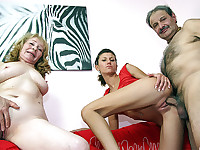 Senior Pavlov went out for a walk with his mature wife. Because of her age she couldn't keep up with him for a long walk and collapsed! Luckily this cute teen was around to help this senior couple to their home but once they arrived this senior couple wanted to reward this teen for her help!
Caught in the open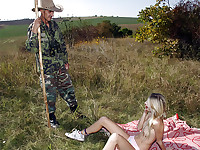 Zdenka has a day off so she wanders into the wide open to take her blanket for a walk, pick some flowers and do some topless sunbathing. But then Rick, our grand explorer of the wild stumbles upon the innocent girl. Will she be able to withstand the beast?
A new apartment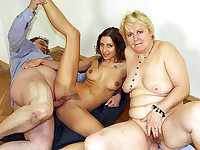 Eva and her daughter were recently evicted from their old apartment and started looking for a new one. Luckily their good friend and landlord Tim owns a great place, but the rent he asks is fairly high. Perhaps there is another way they can pay him...
Paying the repair man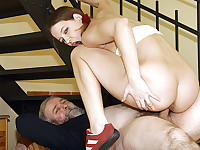 Karolina is obviously very bored with herself. Downing her wine she is flicking through the TV channels... until the set breaks down. Fortunately there's a good repair man at hand who fixes it in no time. But how is she going to pay him?
It's Tim's lucky day!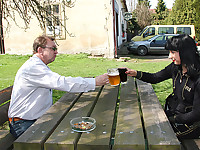 It sure is Tim's lucky day today. Just when he is enjoying a well earned beer a damsel in distress comes up to him for help. So, Tim gives her all he can: Some change for the phone, a glass of cola to quench her thirst and a good fuck on top!
The girls next door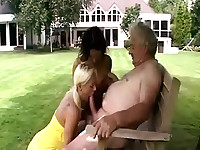 Sam is just clearing up his rose garden when he sees the girl next door sitting on a bench. She is pretty hot looking and so is her girlfriend that is visiting her. Before he knows it, Sams fantasy is taking him for a ride... and a pretty wild one too!
Former school director in action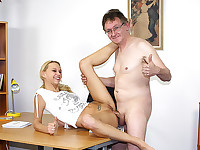 Jan Willem is a former school director who has discovered that one of his ex pupils is a performer on an adult site. So he contacts the owner to see if he himself could do a video session with the girl. To his surprise, that is no problem at all...
Awakened by an angel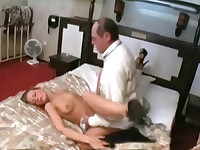 Jack is just having his afternoon nap when suddenly there is this blonde girl sitting next to him on the bed. As one would do, Jack attacks her with all the force he has in him. Which is not much. But finally he conquers her, panting like a steam engine!
The horny plumber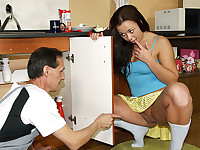 A girl is calling for a plumber to repair her sink. When the guy is busy he notices she isn't wearing any panties under her skirt. He lies down to lick her pussy and a little later on the both of them are fucking on a chair and on the floor.
* T O P L I S T * T O P L I S T *