Topless football match
A large group of topless Asian girl is standing in a row having their pictures taken. They have a football match agains a group of guys in swimming trunks. One of the female players sits down on a matress and is finger fucked by a member of the other team.
Yuuna Shiomi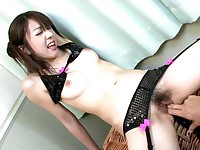 Tempting Japan siren in hot fishnets lingerie Yuuna Shiomi gets hairy pussy fingered hard doggy style
A noisy sucker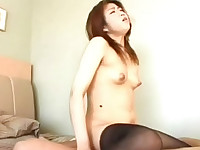 A naked Asian girl is on her stomach on the bed. She has her legs spread so a guy can finger fuck her pussy. A little later she is on her knees, licking his dick. Then the guy fucks her in different positions until he comes on her face.
Horny house maid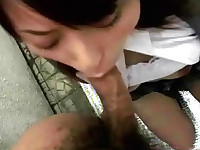 It is not easy being a maid nowadays. You are constantly cleaning, washing, wiping... and then there is the lord of the manor who punishes your every time you make a mistake. Mind you, the punishments are... pretty bearable...
Shaving lesbians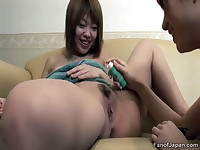 Two Asian girls are sitting opposite each other on a couch. One of them shows her hairy pussy off. The other one covers it with shaving cream and then uses a razor on it. When the pussy lips are completely bald both girls kiss each other.
Fucking at the basketball game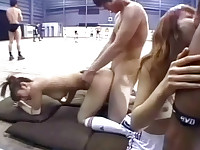 A topless Asian girl is sitting on the floor of a sports hall. A guy is sitting next to her, licking her tits. While a topless football game goes on in the background, the girl sucks the guys dick while behind them another couple is fucking away.
Fucking for a facial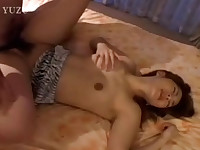 An Asian couple is on a bed, kissing each other. A little later the girls is on her knees, giving the guy a blow job. Then she gets down on all fours so the guy can fuck her from behind until he comes on her face.
Horny disco dancer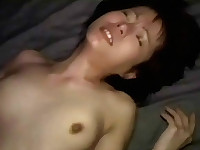 An Asian girl in a short dress is dancing in a disco. After a few minutes she is completely naked and still dancing in the middle of the crowd. One guy puts her on her back and holds a vibrator against her clit before he fucks her.
Fucking in full view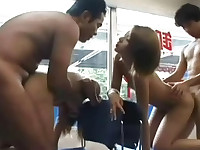 Two Asian teens are standing behind a window where two guys take the girls bikinis off. Both girls get down on their knees to give the guys a blow job. The guys then put the girls on some chairs and fuck them from behind.
* T O P L I S T * T O P L I S T *